Baby Moc-a-Soc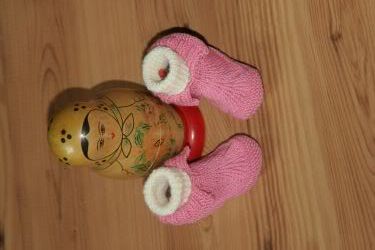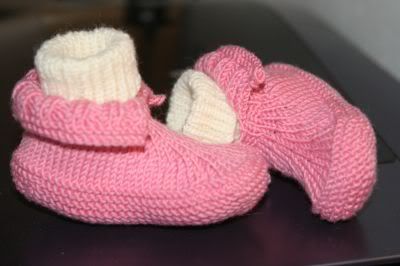 Info: Lana Grossa Cool Wool 2000 und Buttinette Söckli, NS: 3mm und 2,5mm, Muster/ pattern Baby Moc-a-Soc, Gr. 6-12 Mo.
Vor einiger Zeit ging in einer der Sockenstrickergruppen der Hinweis auf diese süßen Babyschühchen rum. Mir haben sie so gut gefallen, dass ich sie mir in dem
etsy-shop
bestellt habe. Die Anleitung ist sehr schön aufgemacht, schön bebildert und leicht nachzuvollziehen.
Die Schühchen bekommt heute ein Neuzugang in unserem Dorf: Die Biobauern, bei denen ich immer wieder Fleisch hole, sind letzten Monat zum 4. Mal Eltern geworden.
The other day someone in one of the german sock knitting groups posted a link to these cute bootees. I immediately fell in love and bought the pattern at this etsy-shop. The pattern is written down very nice with lots of pictures and the instructions are easy to follow.
The bootees will go to a new arrival in town: the organic farmers I buy my meat from just had their 4th child last month.